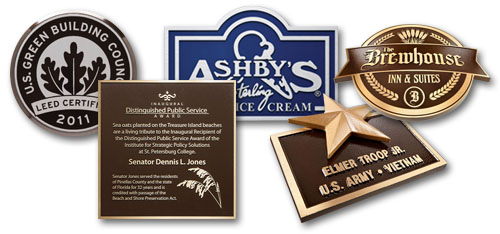 Custom High Quality Plaques that come in bronze, aluminum, brass and stainless steel. Classic and Permanent. Easy to Install, Quality Workmanship, Low Cost, Fast Manufacturing Times and Fast Shipping.
We use the best materials for your budget, combined with years of expert signage knowledge, and truly great finished products

Our Plaques options include: Hotel Plaques, House Plaques, Portrait Plaques, Building and Corporate Plaques, Government and Military Plaques, Religious and Dedication Plaques, Church and School Plaques, and even plaques for your Pets that might have passed on.

Our motto is simple: "Best Sign for the Best Price"